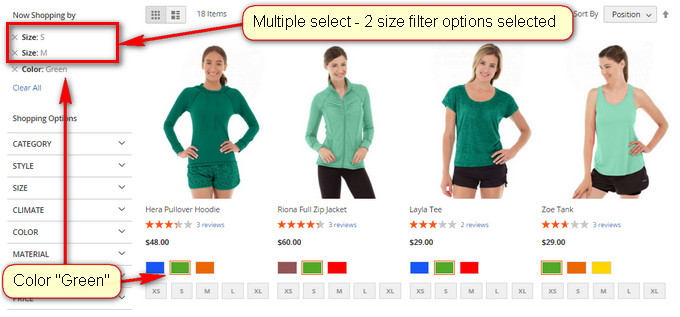 Now that Magento2 has made its eagerly anticipated and long awaited debut, reinforcing its position as the Number 1 eCommerce solution on the market for the past 4-5 years (depending on whom you read), we are very happy to announce the availability of Layered Navigation (Filters) with Multiple Select for Magento 2.
As the latest version of the Magento eCommerce platform begins to make an impression on the marketplace, with a variety of improved features and benefits, it is also true that all extensions for this version of Magento should be written anew to ensure a seamless application within the new platform.
Did you know? Our open-source extension is already reviewed and accepted by the Magento team, and is currently listed on their Magento 2 extension list on Magento eCommerce site.
What have we changed in Layered Navigation?
This simple extension has greatly expanded filtering options for your customers, making store navigation far more flexible, and much more user-friendly. We do this by enabling your customer to apply multiple options of the same attribute. For example, instead of searching for a single color of their target product, then beginning a new search for a different color, your customers can now browse for yellow and red shoes, or pink and blue T-shirts at the same time, within the same search, saving them time and frustration.
This means your customers will spend less time searching, and becoming frustrated by the cumbersome process, and more time buying from your store.
As the saying goes, with great freedom comes great responsibility. While our extension allows store customers to browse products in a much more effective way, it does the same for search engine bots; we have included a hidden feature which limits the number of indexed filtered pages in a meaningful way.
How does multiple select in Layered Navigation work?
After installation, visually layered navigation does not change, while the filter's behavior differs. When your store's customer chooses one filter option by clicking it, the catalog is filtered by the chosen option; yet, after applying this filter, your customer still has the option to choose and apply more options of the same filter – improving filtered search and customer convenience to a degree not possible before.
In other words, you can now offer your customers the possibility to apply as many options of the same filter as she or he may need to find the perfect selection and make the choice to buy.
Features of Layered Navigation (Filters) with Multiple Select for Magento 2.0 include:
100% Open source - It's free!
No core code changes
Easy installation
It just works - no setup needed
Developed by certified Magento developers
Fully supports Magento2 Color swathes and filters
Works with any attribute or decimal filter
Works with price filter
Custom design-ready
Localization-ready
Click here to download our latest version of Layered Navigation (Filters) with Multiple Select for Magento 2.0.
Feel free to share your Magento 2 store using our Layered navigation extension below in comments.