How To Set Up Slider For Custom Attribute
Custom attribute, like size, weight, width, screen size, etc can be presented as a slider in Layered Navigation: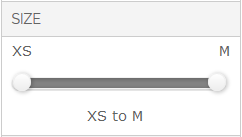 Slider can be created for an attribute of Dropdown or Multiple Select catalog input type:

Attribute options should be created. Attribute option positions should be unique. Options in slider will be ordered according position.

For MANAdev -> Layered Navigation -> [filter] , select Slider display.